Eggnog Cake
This layer cake includes a rich buttered rum soaked sponge cake and nutmeg spice swiss meringue buttercream. Decorated with fresh cranberries, almond slice pine cones, and a sprinkling of fresh powder sugar "snow" this boozy cake version of Eggnog is perfect for your holiday table.
1 1/4 cup all purpose flour

3/4 cup granulated sugar

1/2 tsp baking powder

1/4 tsp baking soda

a pinch of salt

5 tablespoons butter, melted

1/4 cup buttermilk

1/4 cup dark rum

1 tablespoon vegetable oil

1 teaspoon vanilla bean paste

3 egg yolks

2 egg whites
rum sauce
4 tablespoons butter

1/4 cup water

1/3 cup sugar

1/4 cup dark rum
Preheat the oven to 350 degrees. Grease and add parchment circles to three 6 inch round cake pans.
Using the whisk attachment of a stand mixer, whip the egg whites until you reach stiff peaks, and set aside for use later.
With the paddle attachment of a stand mixer, mix together the dry ingredients: flour, sugar, baking powder, soda and salt. In a separate bowl, mix tother the wet ingredients: melted butter, buttermilk, rum, oil, vanilla, and egg yolks.
Gradually add the wet ingredients to the dry. Mix on a medium speed. Scrape down the sizes of the bowl and continue to mix until just combined. Then gently fold in the reserved egg whites until incorporated and no streaks remain.
Divide the batter into three 6 inch cake pans. Bake for 25 minutes or until a toothpick comes out clean. Then move to a wire rack to cool but keep in pans for about 10 minutes.
While the cakes are cooling in their pans, prepare rum sauce by melting together butter, sugar, and water on medium heat. Bring the mixture to a boil and cook for an additional 2-3 minutes until all sugar has dissolved and the mixture has thickened slightly. Remove from heat and then stir in rum. The rum will make the sauce bubble vigorously so be careful ;)
Poke the cakes in several places with a toothpick and then pour 1/3 of the rum sauce evenly over each of the 3 cakes. Let the cakes soak for at least an hour but preferably longer. Then invert the cakes on a cooling rack to rest before stacking.
Nutmeg Spice Swiss Meringue Buttercream
5 egg whites

1 1/2 cup sugar

1 1/2 cup cold butter, cubed

1/2 tsp vanilla bean paste

1/2 tsp nutmeg

1/4 tsp cinnamon

1/4 tsp clove
In a heat proof bowl over a pot of simmering water, whisk together the egg whites and sugar constantly but gently until a candy thermometer reads 160 degrees fahrenheit.
Transfer the egg white mixture to the bowl of a stand mixer fitted with the whisk attachment. Whisk the meringue mixture on medium speed until the bowl is room temperature to the touch and the meringue has reached soft peaks.
Then, switch to the paddle attachment and incorporate the butter cube by cube. Keep mixing until the buttercream reaches a smooth consistency. Mix in vanilla and spices until incorporated.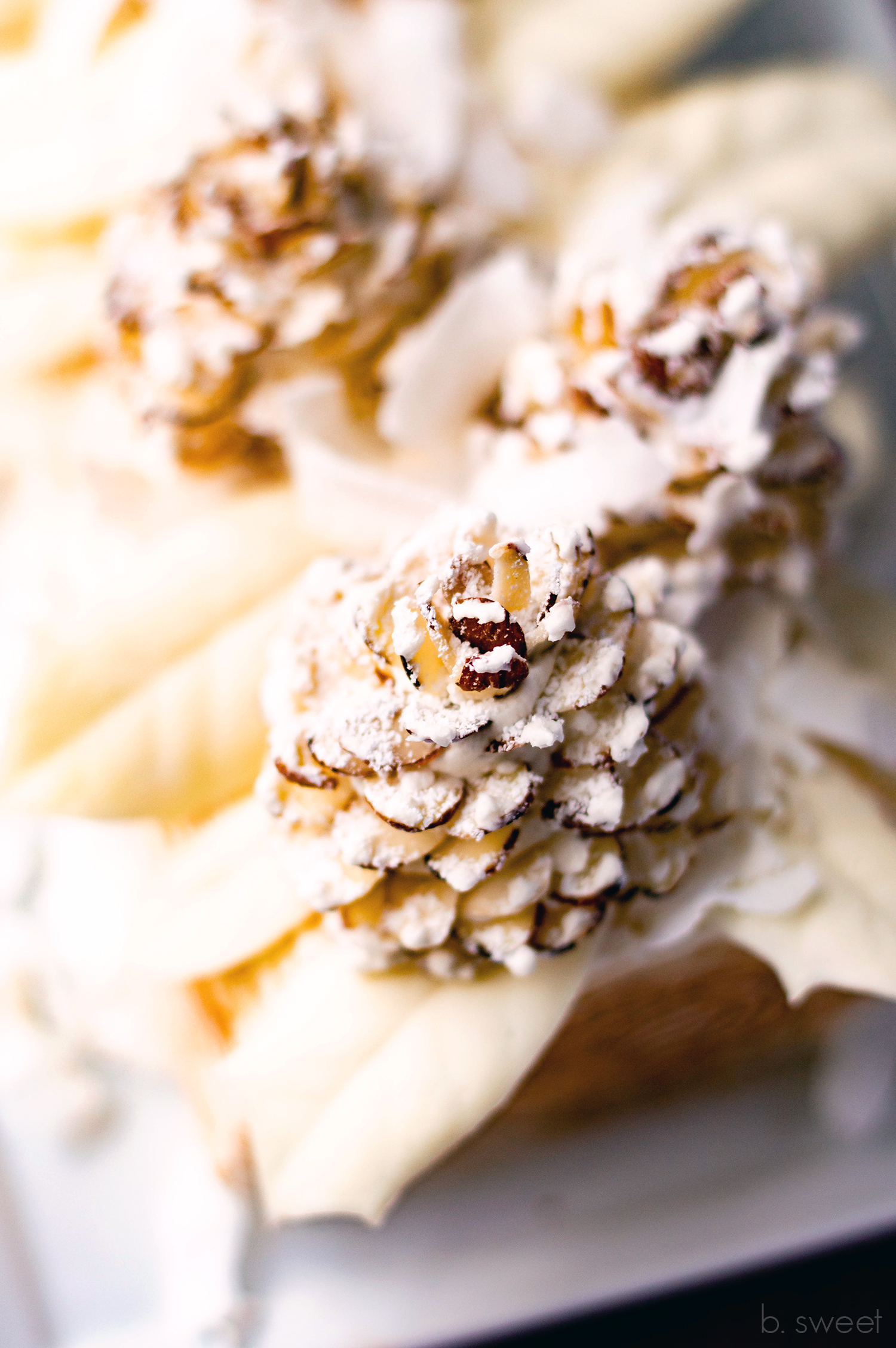 Check out this recipe for more information on making the almond slice pine cones (scroll to the bottom of the page.)